This attachment module makes your Standard Hull place torches when it's too dark.
Recipe
Stats
| | |
| --- | --- |
| Modular Cost | 14 |
| Construction Time | 1m 23s |
Interface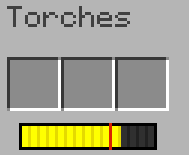 Put torches in the three slots. When you hold your mouse over the yellow bar it will say:
Threshold: 8 (default) Current: (current light level)
The Threshold is on what light level it should place torches. The Current is what light level it's now at the cart.
Click on the yellow bar where you want the red line to be. The red line indicates where your current setting is and the yellow part of the bar is what light level it is.
Ad blocker interference detected!
Wikia is a free-to-use site that makes money from advertising. We have a modified experience for viewers using ad blockers

Wikia is not accessible if you've made further modifications. Remove the custom ad blocker rule(s) and the page will load as expected.