Welcome to the Tekkit Lite Wiki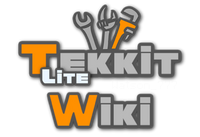 Tekkit Lite is a hugely popular mod-pack for the record breaking sandbox construction game Minecraft.
Bringing together some of the best mods from the Minecraft community for automating, industrializing and powering your worlds, it bundles them into one easy download!
Tekkit Lite is now no longer being updated, as there is a new version of Tekkit out - www.technicpack.net/tekkit.

Download

You must have a premium Minecraft account, before you can play Tekkit. Once you have that, go and download the Technic Platform to get started.

Contributing
Main Mods Used in Tekkit Lite
Affiliates

The Tekkit Classic Wiki is an official partner of the Tekkit Lite Wiki. You are allowed to copy any of the information and images from thetekkit.wikia.com to this wiki (tekkitlite.wikia.com), without needing to cite it.

Watson 777 (talk) 13:35, January 5, 2013 (UTC)

Links

Community:

Other Links:
News
Tekkit Lite is no longer being updated. You can download the new Tekkit at www.technicpack.net/tekkit
Latest Admin Blogs
For most of you, this is the news you have been waiting for. There is a new wiki for the new Tekkit…

Read more >
Latest User Blogs
A Belt tool could also be a machine designed to induce eliminate stock and guarantee fine finish of…

Read more >

Hello, i've been playing in a moderatley friendly PVP enabled nongriefing SMP server in Tekkit Lite…

Read more >
Latest Activity