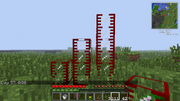 A tank is a storage system for liquids. It is capable of storing up to 16000mB (16 buckets) of Oil, Fuel, Water , Lava , Mob Essence , Sewage or Sludge per block. You may use BuildCraft Waterproof Pipes to pump into them. You may pump out of them with any engine and a wooden waterproof pipe. They are most useful for keeping resources from the Pump . You can also use a bucket to input or output liquids from the pump by right clicking. Similarly, a Deployer can be used to output liquids into buckets.
Recipe
Usage
Video Tutorial
Bugs
If there is very little liquid in the tank, you may see a small amount of liquid flicker noticeably.
Ad blocker interference detected!
Wikia is a free-to-use site that makes money from advertising. We have a modified experience for viewers using ad blockers

Wikia is not accessible if you've made further modifications. Remove the custom ad blocker rule(s) and the page will load as expected.