The Seed Bag is capable of planting up to 25 seeds (5x5), on farmland, with one right click. In addition, any seeds picked up by the player will automatically be placed in the bag, providing there is already a seed of the same type in the bag.
Only one type of seed can be kept in a bag at any given time.
The following seeds can be used:
Seeds
Pumpkin Seeds
Melon Seeds
Recipe
GUI
Shift + Right Click will open the Seed Bag's GUI.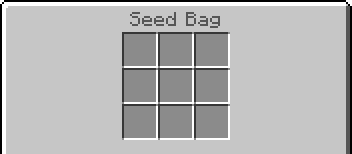 Ad blocker interference detected!
Wikia is a free-to-use site that makes money from advertising. We have a modified experience for viewers using ad blockers

Wikia is not accessible if you've made further modifications. Remove the custom ad blocker rule(s) and the page will load as expected.