The Redstone Energy Cell uses Molten Redstone to store BuildCraft energy (Minecraft Joules). Input and output amounts can be configured, both allowing up to 100 MJ/tick to either be put into the cell (input) or how much the cell gives out (output). It can hold up to 600,000 MJ.
Recipe
Interface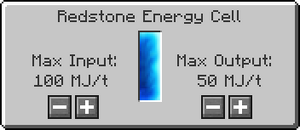 If dismantled (Sneak + Activate) with a BuildCraft compatible Wrench or Crescent Hammer, the energy will remain contained in the Redstone Energy Cell. Using a pickaxe will lose all the energy stored in the cell.
Ad blocker interference detected!
Wikia is a free-to-use site that makes money from advertising. We have a modified experience for viewers using ad blockers

Wikia is not accessible if you've made further modifications. Remove the custom ad blocker rule(s) and the page will load as expected.