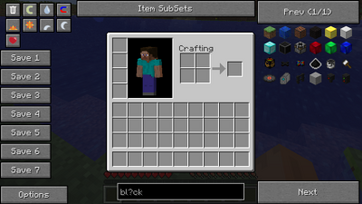 Not Enough Items
or NEI provides players a new way to spawn in items and check recipes. It includes recipe mode, utility mode and cheat mode. Recipe mode allows you to check the recipes for items. Cheat mode allows you spawn items. Right clicking an item will spawn one of it, left clicking an item will spawn a stack of it, and shift-left clicking an item will spawn an unlimited amount of that item (will show up as 111). It also allows the player to go into creative mode, change the time, or heal the player.  Utility mode is the same as recipe mode, except it also allows you to toggle delete mode and magnet mode on and off.
To change from cheat mode to recipe and utility mode, click the options button in the bottom left and select the mode you want.
Basic Use
Typing something into the search bar below the inventory will show items that have those words in it. If you were to type "coal" into the search bar, nether coal, coal ore and coal dust along with many others along with coal would appear to the right of the inventory. Double clicking the search bar darkens all items in your inventory that are not specified in the search bar. Right clicking will clear the search bar.
Pressing R while your mouse is over an item (either in inventory or in the right hande NEI selection panel) will show the available recipes for that item.
Pressing U or Shift+R while your mouse is over an item (either in inventory or in the right hand NEI selection panel) will show recipes that use the current item.
Pressing O will hide the NEI program. Press O again to show it.
In the recipes or uses interfaces, if there are multiple places to create/use an item (furnaces, crafting table, etc.) then the top left/right arrows will scroll through those options.  If there are multiple recipes/usages for an item then the bottom arrows will scroll through them.
Ad blocker interference detected!
Wikia is a free-to-use site that makes money from advertising. We have a modified experience for viewers using ad blockers

Wikia is not accessible if you've made further modifications. Remove the custom ad blocker rule(s) and the page will load as expected.