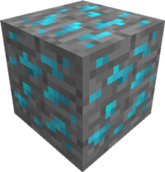 Nikolite
is an ore that drops as a dust when mined, in the same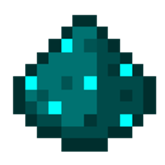 fashion as
Redstone
. It can only be mined with an Iron Pickaxe or higher. It is fairly common, and can be found in large veins.
Block Usage
Combining four Nikolite with a Silver Ingot in the Alloy Furnace will produce a Blue Alloy Ingot. Also, combining four Nikolite with a Silicon Wafer in the Alloy Furnace makes a Blue-Doped Wafer. You can also use Nikolite for crafting a BT Battery.
Recipe
Usage
Bugs & Errors
 When the pick-block key is used on Nikolite, It will give Tungsten Ore instead of Nikolite Ore.
Trivia
Due to its close resemblance to the Diamond texture, it is sometimes called Fool's Diamond.
Ad blocker interference detected!
Wikia is a free-to-use site that makes money from advertising. We have a modified experience for viewers using ad blockers

Wikia is not accessible if you've made further modifications. Remove the custom ad blocker rule(s) and the page will load as expected.