The Minium Stone is an item added by EE3. Currently it does everything a Philosophers Stone can besides being able to charge with "V". However, unlike the Philosophers Stone, it can be crafted. To craft it you need to surround an Inert Stone with Shards of Minium. The minium stone has a limited durabilty, i.e. uses, of 1521. Every time you craft something it will take one point of damage and will break once its used up.
Recipe
Usage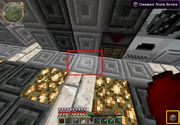 While holding the Minium Stone highlighted blocks can be changed into different types of blocks (Cobblestone into dirt blocks, smooth sandstone into gravel, etc.). This will not take any durability from the Minium Stone.
To change the transform block type, just press "G".
To open up a 3x3 crafting space, press "C" while the Minium Stone is in your hand.
Crafting Usage
The Minium Stone may be used to transmute various items into other "equivalent" items in a crafting grid. Doing so does not consume the Minium Stone, but does use up some of its durability.
Minium Stone Farm
Minium Stones can, as of Tekkit Lite 0.7.2, be farmed automatically without direct involvement of the player. This is extremely valuable for larger Applied Energistics systems that make heavy use of Minium Stone recipes to speed production. Follow the tutorial here to learn how to build an automated minium farm.
Bugs
When in use with a Crafty Turtle durability will not decrease.
When looking at multiple crafting recipies, the product will dissappear after looking at crafting recipies. This can be fixed by closing your game, and opening it up again, or not using NEI at all.
To fix the issue with Recipes not showing up, follow the directions here: How to fix EE3 recipes not working
Video
Ad blocker interference detected!
Wikia is a free-to-use site that makes money from advertising. We have a modified experience for viewers using ad blockers

Wikia is not accessible if you've made further modifications. Remove the custom ad blocker rule(s) and the page will load as expected.