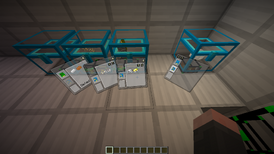 The Logistics HUD Glasses is an item that takes place of your helmet, they allow you to see data from various Logistics Pipes mod items without requiring a wrench.
This makes them useful for checking inventory, or looking at which modules are in a chassis. It will only display the item's icon, which means some modules will be hard to differentiate.
Please note that the glasses will not convey information from liquid logistics pipes
It is created in a Soldering Station and requires two Logistics HUD Glass , two Logistics HUD Bow and one Logistics HUD Nose Bridge.
Recipe
Ad blocker interference detected!
Wikia is a free-to-use site that makes money from advertising. We have a modified experience for viewers using ad blockers

Wikia is not accessible if you've made further modifications. Remove the custom ad blocker rule(s) and the page will load as expected.