The HV Charging Bench is the highest tier of Charging Bench added by the Industrial Craft 2 addon, Advanced Power Management. RE-Batteries, Energy Crystals, Lapotron Crystals, tools, NanoSuit Armor, and QuantumSuit Armor can all be placed in any one of the thirteen slots in the inventory to recharge them simultaneously. This makes the Charging Bench far more efficient than using a generator or an EU storage device to recharge them one at a time. The HV Charging Bench can be destroyed by hand and will return the Charging Bench, and thus, does not require the use of a Wrench to retrieve.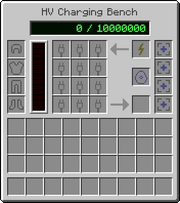 The amount of charge the HV Charging Bench contains is displayed at the top of the GUI. the HV Charging Bench can hold a maximum of 10,000,000 EU, though this can be extended with the use of an Energy Storage Upgrade placed in the machine's upgrade slots. The top-right slot is for incoming items and the bottom-right slot is for outgoing items. The middle-right slot is for EU storage items, such as a Lapotron Crystal, up to the maximum tier of voltage the Charging Bench will accept.
Similar to other Industrial Craft 2 machines, an Energy Storage Upgrade increases the amount of EU that can be stored in the Charging Bench by 60,000 EU per upgrade, up to a maximum of 42,000,000 EU. Overclocker Upgrades can be used to speed up charging by roughly 25 EU per-tick, shaving a full second off of recharging a Mining Drill with each Overclocker.
All tiers of Charging Bench can be upgraded without losing any stored EU with the use of a Charging Bench Toolkit. To upgrade a bench, craft the desired tier of Charging Bench and craft it with the Charging Bench Toolkit to receive the Components for that tier. Right-click on the existing bench with the Components and the Charging Bench will be upgraded, returning the Components for the old tier. A Charging Bench can be downgraded in the same manner. To convert the Components back into a Charging Bench, simply craft them with the Charging Bench Toolkit once more.
When interfacing the HV Charging Bench with BuildCraft Pipes, the top of the machine is for input, the bottom is for output, and the sides of the machine are for EU storage items to power the machine with.
Recipe
Usage
HV Charging Bench Components Shapeless Recipe
Ad blocker interference detected!
Wikia is a free-to-use site that makes money from advertising. We have a modified experience for viewers using ad blockers

Wikia is not accessible if you've made further modifications. Remove the custom ad blocker rule(s) and the page will load as expected.