The HV Battery Station is the highest tier of Battery Station added by the Industrial Craft 2 addon, Advanced Power Management. It allows the use of RE-Batteries, Energy Crystals, or Lapotron Crystals to power a system of machines.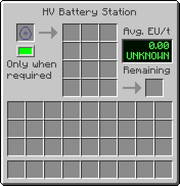 Machines or EU storage devices can be connected to the Battery Station on any face of the block. The HV Battery Station outputs 512 EU/t. Powering Medium Voltage or Low Voltage machines with the HV Battery Station requires the use of a MV Transformer or a LV Transformer, respectively. The HV Battery Station can be removed with any tool or by hand.
Charged crystals go in the main inventory of the Battery Station and are automatically used as needed. Empty crystals are placed in the bottom-right slot of the GUI. The display shows the amount of EU being produced and the estimated amount of time that the amount of crystals placed in the Battery Station's inventory will last.
A backup crystal can be placed in the top-left slot of the GUI; if configured to do so with the "Only When Required" option, this crystal will only be discharged if no other charged crystal is available in the Battery Station's inventory.
Recipe
Ad blocker interference detected!
Wikia is a free-to-use site that makes money from advertising. We have a modified experience for viewers using ad blockers

Wikia is not accessible if you've made further modifications. Remove the custom ad blocker rule(s) and the page will load as expected.