The Extractor is an Industrial Craft 2 machine. Its primary use is to extract Rubber from Rubber Wood, Rubber Tree Saplings, and Sticky Resin. The Extractor will produce three Rubber per Sticky Resin whereas the Furnace will only produce one, making it three times as efficient. It can also be used to produce Coalfuel Cells from Hydrated Coal Cells, Hydration Cells from Water Cells, and Biofuel Cells from Bio Cells.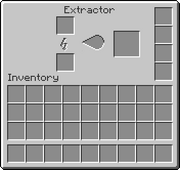 The Extractor is a Low Voltage machine and can only accept 32 EU/t. If one wishes to connect the Extractor to the MFE, MFSU, or any of the Medium and High Voltage generators, a Transformer Upgrade is required. Without Overclocker Upgrades, the Extractor takes 800 EU to process one item.
The Extractor's GUI resembles the vanilla Furnace's GUI. Power sources, such as the RE-Battery, can be placed in the bottom slot, while the items to be processed are placed in the top slot.
Like most of Industrial Craft 2's machines, four upgrade slots are available on the right side of the GUI. The Overclocker Upgrade can speed up the Extractor's operation at the cost of drawing more power, the Transformer Upgrade allows the use of Medium and High Voltage energy sources, such as the MFE, the Medium Voltage Solar Array, or the Energy Crystal, and the Energy Storage Upgrade allows the Extractor to buffer more EU in its internal memory storage, allowing it to run longer without being powered.
The Extractor is also used to craft its advanced version, the Centrifuge Extractor.
Recipe
Usage
Ad blocker interference detected!
Wikia is a free-to-use site that makes money from advertising. We have a modified experience for viewers using ad blockers

Wikia is not accessible if you've made further modifications. Remove the custom ad blocker rule(s) and the page will load as expected.