The Dynamite Carrier attachment module makes it possible to blow something up when the cart goes over a Detector Rail. There is no reason to use a hull better than a wood one, you usually don't want to blow up modules or hulls that are expensive.
Recipe
Stats
| | |
| --- | --- |
| Modular Cost | 3 |
| Construction Time | 3s |
Interface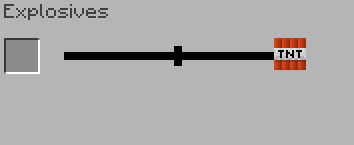 Put Dynamite in the left slot, the more dynamites you put in the bigger the explosion will be. Max: 50 dynamites. (This can be changed in the configs) Drag the bar to the length of delay you want, closer to the TNT gives it a shorter delay and further away gives it a longer delay. Let the cart roll over a detector rail from vanilla minecraft and it will ignite the fuse. If you look in the cart when it's ignited you can see a red and white flashing bar moving to the right towards to TNT.
Ad blocker interference detected!
Wikia is a free-to-use site that makes money from advertising. We have a modified experience for viewers using ad blockers

Wikia is not accessible if you've made further modifications. Remove the custom ad blocker rule(s) and the page will load as expected.