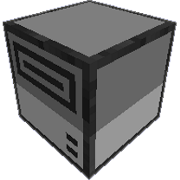 A
Disk Drive
connected to a
Computer
or
Turtle
can be used to read or write on
Floppy Disks
or to play music discs with the 'dj' command.
The Disk Drive must be on the right side of a turtle to be found.
Recipe
Ad blocker interference detected!
Wikia is a free-to-use site that makes money from advertising. We have a modified experience for viewers using ad blockers

Wikia is not accessible if you've made further modifications. Remove the custom ad blocker rule(s) and the page will load as expected.