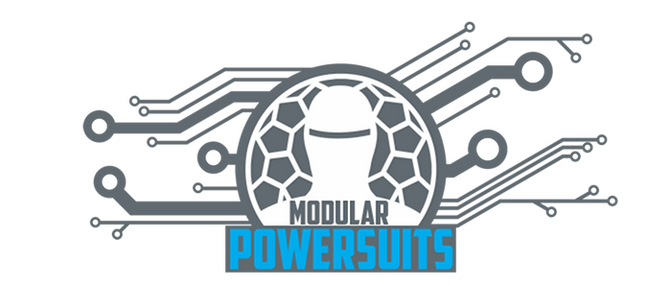 Modular Powersuits is a mod based around the idea of an inventor who tinkers with high-tech electronics and makes a suit of powered armor chock-full of useful gadgets and features. Inspired by heroes like Iron Man, Spartan Mjolnir Armor, and Samus Aran--as well as by the high-tech armor in mods like Equivalent Exchange and IndustrialCraft 2. Modular Powersuits allow players to go and fly to the Moon or shoot plasma balls and have a better time of getting around, using energy and Much, Much More!
The mod is based around a core of 5 items that you can customize with a large number of modules.
NOTE : All the core items (armor and tool) use IndustrialCraft 2 energy (EU).
The Powersuit items are useless on their own, but when you upgrade them in a Power Armor Tinker Table, they can become very powerful.
The Power Armor Tinker Table will list all the modules that you can add to an item, tell you the component cost for each upgrade or module and allow you to upgrade/install your items from the table itself.
Until this wiki is fully filled, for a complete list of recipes of all (sub)items go to the author's website at MachineMuse.net
Upgrades
Energy:
Armor:
Cosmetic:
Head
Special:
Energy:
Environment:
Torso
Special:
Movement:
Legs
Energy:
Movement:
Feet
Movement:
Tool
Weapon:
Special:
Tool:
Components
Videos
Ad blocker interference detected!
Wikia is a free-to-use site that makes money from advertising. We have a modified experience for viewers using ad blockers

Wikia is not accessible if you've made further modifications. Remove the custom ad blocker rule(s) and the page will load as expected.