The Accelerator is a machine added by RedPower 2. It needs 60 volts to start working (blue lights start glowing). Items will NOT go into chests or any other storage block directly from magtubes. It does not need a permanent power source to operate. Amps do not need to have a specific value to charge. It uses no energy to decelerate (can work even with 0 volts meaning it can decelerate at all times, no matter the voltage), but uses 0.015 volts / itemstack to accelerate. Once it drops below 60 
volts, the lights stop glowing and the accelerators stops accelerating. Currently, an itemstack can move 80 blocks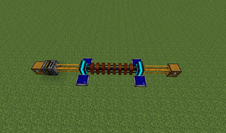 (untested) and gradually losing speed until it reaches normal pneumatic tube speeds but still needing deceleration via the accelerator. There must be Magtubes between the accelerators in order for the items to travel at an accelerated speed. It only takes 1 solar panel and one battery box to operate an Accelerator.
Recipe
Ad blocker interference detected!
Wikia is a free-to-use site that makes money from advertising. We have a modified experience for viewers using ad blockers

Wikia is not accessible if you've made further modifications. Remove the custom ad blocker rule(s) and the page will load as expected.